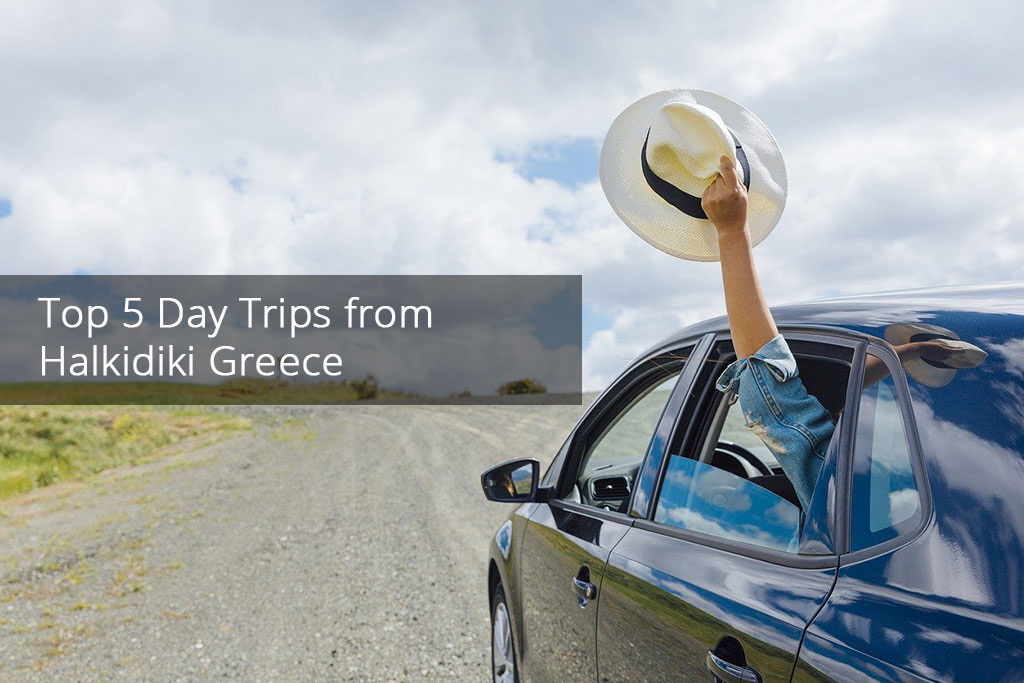 Top 5 Day Trips from Halkidiki
Are you planning to go to Halkidiki this summer? Do you wish to explore other parts of North Greece while holidaying in Halkidiki?
If so, check out the top 5 destinations for day trips!
While Greece is known for its picturesque islands and stunning beaches, especially in the Southern part, they say that nowhere in Greece can boast beaches like those of Halkidiki. The region has the perfect combination of that exceptional Greek sunshine, unspoiled landscapes, diverse colors, and fragrances. Additionally, Halkidiki has many living religious traditions seen in various feast days and other ceremonies and rituals.
In general, Northern Greece has extremely versatile landscapes, sightseeing monuments, cities with rich history and tradition, and pristine nature of unparalleled beauty. Whether on the mountains or across the northern coastline, it is an excellent destination for any season.
Thus, once you are in Halkidiki, why not go for a day trip to another region of Northern Greece to fully experience the area's culture, history, and traditions.
Here's a list of things to see in Northern Greece:
Thessaloniki
As Greece's second-largest city, or better yet, the capital of Northern Greece, Thessaloniki is a stunning destination for a city escape. The seaside promenade and view over the bay are the perfect combination of an urban and cosmopolitan holiday location. There are many sights to see, many tastes to experience, and lots of multicultural history to explore.
Meteora
In the region of Thessaly, you will find Meteora. This otherworldly destination is a true wonder of nature, with huge steep rocks looking as if they are "flying mid-sky," as their name suggests. Perched on Meteora, you will find medieval breathtaking monasteries and hermitages. Apart from marveling at the landscape and capturing incredible shots, you can visit each monastery and explore more of its history.
Lake Kerkini
Surrounded by the mountains of Belles and Mavrovouni, these wetlands are just 40 km away from Serres and about 100 km away from Thessaloniki. Over 300 bird species migrate or nest here, making it ideal for bird watching. With the rich biodiversity of flora and fauna and one of the biggest populations of buffalos in Greece, today, the lake is protected and preserved. Outdoor enthusiasts can enjoy boat rides, canoeing, horseback riding, and hiking along the lake.
Kavala
Kavala is a coastal city built around the Bay of Kavala. The city features a marina, and its center is full of life in countless locales and many parks.
The imposing castle of Kavala in Old Town offers the best views over the whole city. In Old Town's narrow medieval neighborhoods, you can find traditional dwellings and a mesmerizing atmosphere. If you're interested in the history of Kavala, visit the equestrian statue of Mehmet Ali opposite his old house, which is now a museum. If you want more panoramic views of the city, walk to the Old Lighthouse and enjoy the urban landscape from afar.
Edessa
Less than 3 hours from Halkidiki, you will find Edessa. It is a city known for stunning waterfalls formed due to an earthquake back in the 14th century. The Karanos Waterfall is the biggest in Greece and is up to 70 meters high, a heavenly spot accessible by stairs. There are also the twin Lamda waterfalls nearby. The park around them is beautiful, with lush vegetation and benches to enjoy the view.