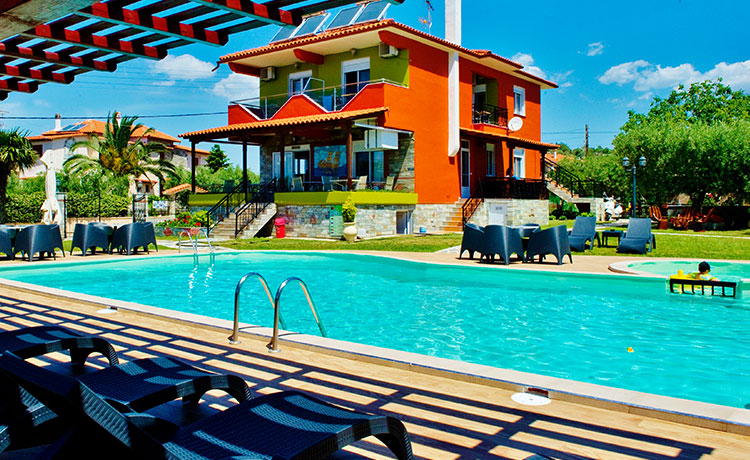 The Benefits of Choosing Resorts with Pools
Have you ever thought what hotel pools serve when the beach is only a few steps away? Time to find out and learn how your vacations can be even more relaxing.
The Benefits of Choosing Resorts with Pools
You may wonder why you should choose a hotel with a swimming pool when the beach is only a breath away! It makes sense when the resort is located in urban environments or at the top of hills. But what purpose will it serve right next to the beach? Well, swimming pools serve more than just the substitutes of the sea.
And so, by booking a room at Sunday Summer Resort in Gerakini, you won't only be next to one of the most beautiful beaches in Halkidiki but will also have plenty of lazy moments by the pool. And that's not the only role of beach hotel pools in your life.
An excellent opportunity to swim more
The hotel pool is a few steps away from your room. If the family gets up late, you can spend an hour in the pool. If you want to return from the beach early to feed the kids, you can then relax by the pool and still swim. Hotel pools offer you the opportunity to extend your swimming time and enjoy the water more during your summer vacations.
You'll keep an eye on the kids
Pool areas are somehow confined. This allows you to keep a close eye on children. With a playground in sight, you can also swim and let the kids play without worrying about their safety. Or you can teach them how to swim without worrying about waves.
Much easier for the elderly
Some elderly people don't find it easy to walk on the sand while some are afraid to swim in the sea all alone. A swimming pool will give them the opportunity to still swim or relax by the blue pool water.
Hotel pools give you the chance to relax
Just the sound of the water can make you sleep. Now, imagine spending your whole day by the pool without missing the fun on the beach. With all the sea sports and activities, beaches become busy and loud whereas pools often offer you the opportunity to read the paper, enjoy a cocktail, or have dinner even when it gets late at night. What's not to like about hotel pools?