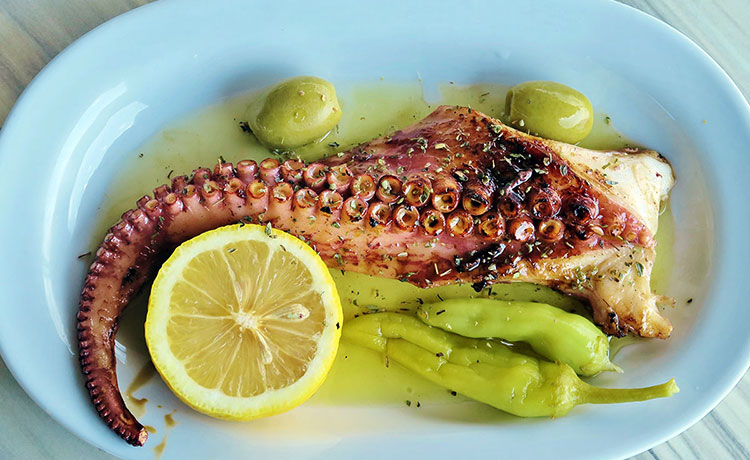 Enjoy Great Seafood during Your Holiday in Halkidiki
When spending your holiday in Halkidiki, you can see many taverns and restaurants around. As you walk by, you will feel tempting smells coming out of them. Greek cuisine is very delicious and rich. And, specialties made of fresh seafood are among the best culinary experiences all over Halkidiki. If you follow the Sunday Resort's advice in this regard, you will combine memorable dining experiences with your holiday.
Grilled Octopus
Grilled octopus is one of the Greek specialties that water anyone's mouth. And there are a lot of great seafood restaurants along the seaside in Halkidiki. So, you know what to do.
Before ordering the specialty, however, make sure you have a lot of time. Octopus requires up to 1:30 hours to be ready, depending on its size. But, once served to you, it is a treat worth a long wait. Grilled octopus is juicy, soft and a pleasure to eat. You can add lemon juice for the premium taste. And, don't forget to order fried potatoes and the tzatziki salad, of course.
Grilled squids (kalamarakia)
Fried squids is another specialty you would like to enjoy in Greece. You may find it in the openers section, but ordering a few portions of fried squids makes a good main course.
You can have squids either grilled or fried. They are soft and juicy by themselves, but a few side dishes make them even better. For example, you can combine grilled squids with a lemon zest, garlic and, especially, olive oil. Yet, if you prefer enjoying the sole taste of the squids, adding a little salt will be more than enough.
Other extraordinary seafood dishes
Once you have tried these great meals, you can still enjoy many others. For example, cuttlefish with orzo and ink is a great one. Also, don't miss your chance to order lobster spaghetti, octopus in wine sauce and fish soup whenever possible.
Furthermore, you will see many fishing boats sailing along the coastline of Halkidiki for sure. A number of them deliver just caught fish to taverns and restaurants. That way, they offer you an opportunity to try how fresh fish really tastes like.