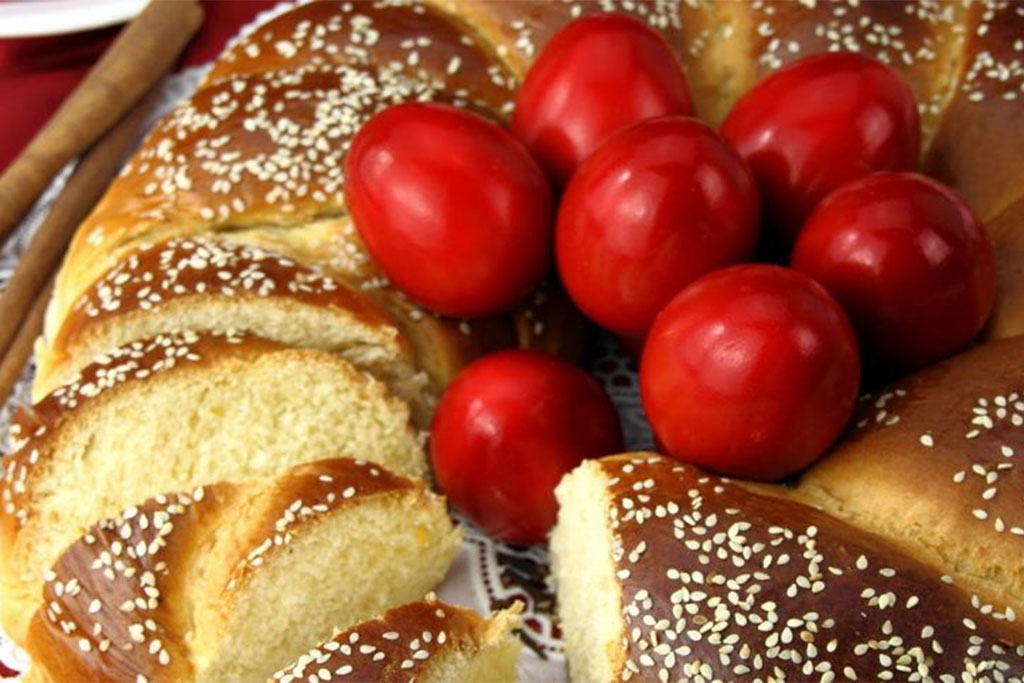 Easter in Greece
Orthodox Easter is among the most significant holidays in Greece. Everywhere, from southern Crete to Halkidiki and northern Macedonia, on the mainland, by the sea and on islands, it features rich folklore. Besides Christ's resurrection, Greek Easter celebrates rebirth of the nature, as well. Hence, read on Sunday Resort's post and find good reasons to visit Greece for Easter holidays.
Good Friday in Greece
Good Friday, the saddest holiday, features an interesting commemoration. People avoid doing housework and head to a local church. From there, you can follow Christ's epitaph with Lord's icon to a cemetery in a slow procession. Many flowers decorate the epitaph. Once in the cemetery, the believers light candles for the dead. Once the epitaph is back in the church, the believers kiss Christ's icon.
[button url="https://sundayresort.gr/pricelist-rates/"]See our Special Offers for Easter Holidays[/button]
Holy Saturday
During the day, people prepare for the festive dinner. Popular Magiritsa, sometimes called 'Easter soup', is the most symbolic meal.
On the Holy Saturday night (Megalo Savato), the Greeks get dressed and go to the church. There, you can attend a grand liturgy before the lights are off shortly before midnight. Putting off the lights has a symbolic meaning. It symbolizes the dark and the silence of the grave.
At midnight, appreciate the grand atmosphere as white candles are lit. The priest lights the candles and hands them to the nearest members of the congregation. Those pass them further while everyone sings Easter songs. Outside the church, you may attend the fireworks show.
Greek Easter
During Sunday (Easter), the Greeks travel to the countryside from the cities on a large scale. There, Easter celebrations including various festivities take place. Some places and regions renowned for Easter celebrations are Corfu, Leonido, Skiatos, Monemvasia and Halkidiki.
In Halkidiki, for example, the Easter celebration includes the burning of Juda's effigy. You can attend an unusual celebration if you find yourself in Asine (the Argolid province). There, people living in upper and lower parts of the village engage in a 'battle'.
On the island of Skiathos, you can attend the ritual of the 'Monastic Republic' away from Mount Athos, the third finger of Halkidiki.
Carnival season
Prior to Easter, you can attend carnivals throughout the country, taking place 10 weeks prior to Easter. The city of Patra organizes the largest carnival, which is among the largest in Europe. Hence, the city is nicknamed "the King of the Greek Carnival".