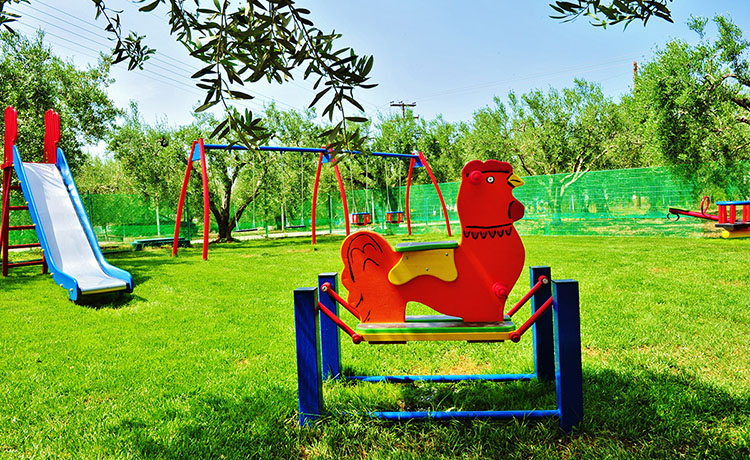 Children's holidays at the Sunday Summer Resort
Sunday Summer Resort in Gerakini, Halkidiki, is a friendly place for all its guests, for children most of all. With several useful facilities available, kids enjoy the Sunday Resort very much. As if they are in a favorite park or playground. Hence, our complex offers an equal chance for everyone to relax and rest.
Gerakini Beach and the surrounding area
Sunday Summer Resort is near beautiful Gerakini Beach. The beach has soft white sand and the crystal clear water. It is long, edged by two hills overgrown with pine trees. Furthermore, there are sport courts and a children's playground along the beach.
If you wish your children to spend some time in the nature during your holiday, Sunday Summer Resort is the right place. Next to our complex, you will find an attractive area. It has many olive, mandarin and orange trees among other plants. The garden next to our two villas has around 5000 square meters. Seems like your children will have a lot of space to play, run and hide.
These and other features make the area near Sunday Summer Resort very pleasant and attractive.
Prefer a swimming pool, maybe?
Our complex also has swimming pool for both adults and kids. Thus, if winds make larger waves at the beach, you and your little ones still have good options. Finally, everyone will notice that the water in our pools is nothing less turquoise than on the beach.
The children's pool is conveniently separated from the one used by adults. So, both parents and kids can (almost) forget about the others while enjoying their "pool activities".
Resort's playground
Also, if you prefer to stay near the villa and have a barbecue, we have a good solution for you. While you are having your beer, let your little ones use a nearby playground. There, kids can enjoy seesaws, a small roundabout, use a slide, even ride if they are very little.
Code of service
As your committed hosts, Sunday Summer Resort makes every effort for you to feel pleasant. Hence, whatever your age or nationality, you can expect to receive only the very best from us.