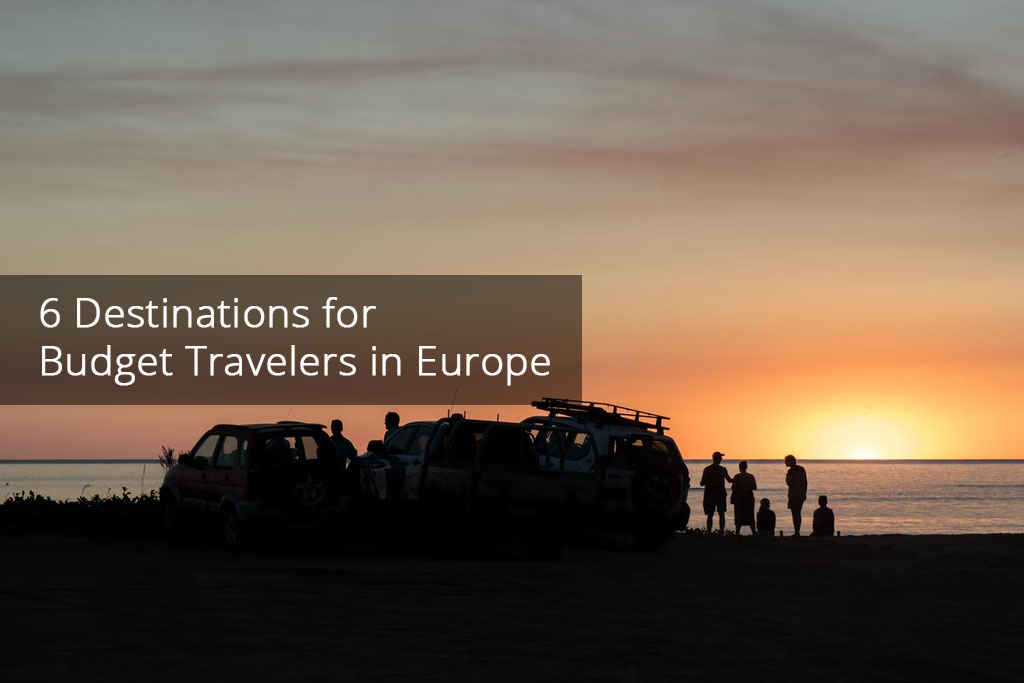 6 Destinations for Budget Travelers in Europe
Europe is always a challenge if you plan to travel on a budget. So, we prepared the top 6 destinations for budget travelers in Europe to choose your next holiday resort!
European city breaks are hardly known for being kind to the wallet. Thus, Europe presents an irresistible challenge to the budget traveler. It is a continent with a mix of cultures, landscapes, and history. But it is also a cash-gobbling monster sticking to your daily allowance.
However, a lot of that is due to "crowd mentality." We all want to go where everybody else is going. Yet many other cities in Europe have as much charm and beauty as the old favorites and at more affordable prices.
Let's check out the 6 best destinations for budget travelers around Europe:
1 Budapest, Hungary
In between the Danube, Buda and Pest make one of the most stunning capitals in Europe. Their main attractions won't break the bank, making it one of the top cheap places to travel to.
Spend the day lounging by the pools in the spa and taking the occasional dip. In the evening, the "ruin-bars" of District VII offer fun, loving nights with cheap local white or rosé drunk long as a spritzer, perfect in the baking heat of summer.
2 Prague, Czech Republic
Prague is one of the most popular destinations in Europe. Yet, you'll still find the Czech Republic to be affordable for budget travelers. The country that invented Pilsner is justifiably famous for producing some of the best beers at pretty reasonable prices.
But there are plenty of other reasons why it's one of the best places to visit in Europe. In Prague, you can visit traditional beer halls and monastery taverns to a new generation of microbreweries.
3 Estonia
Known for the famous city break destination of Tallinn, small and beautiful Estonia also provides swathes of wilderness, with beautiful stretches of coastline, a scattering of islands, and forested national parks along its long Baltic coastline. With so much centered on the outdoors, it's arguably the cheapest country in Europe.
An hour from Tallinn, 725-square-kilometre Lahemaa National Park is best explored by bike. You can cycle its coastal paths, discover rugged coves, windswept beaches, and fishing villages and even sleep on hay bales at a farm. Venture further west, and the summertime resort of Pärnu has fantastic beaches. The island of Saaremaa offers soft-carpeted pine forest countryside and very affordable spas.
4 Kotor, Montenegro
The beautiful walled town of Kotor sits at the end of a fjord-like bay, ringed by dramatic peaks. Just follow your nose in the Old Town. Getting lost in the labyrinth of streets is half the fun, discovering summertime cafés that spill out on the squares before clambering along the old fortress walls. For a view over the whole gorgeous scene, hike up to St Ivan's Castle, overlooking the town.
Kotor's annual highlight is August's exuberant Boka Nights festival. The entire town celebrates a lavish display of decorated boat parade in the bay, and fireworks fill the sky.
5 Gdansk, Poland
As a beautiful Hanseatic city, a gritty port town, and a Baltic riviera city, Gdánsk, offers a winning combination of coastal appeal. Though the core of this picturesque, colorful city looks ancient with its narrow merchant houses, it's actually a postwar reconstruction.
Still, the history is genuine. The shipyard crane dates back to the 15th century, and the city was the birthplace of the Solidarity anti-communist movement. Come summer, the action moves to the hip, coastal resort of Sopot, with its golden sand beach, lively party scene, and attractive pier, which is, in fact, the longest in Europe.
6 Halkidiki, Greece
Relax on pine-fringed beaches and glimpse medieval monasteries on holidays in Halkidiki. Its three peninsulas plunge into the turquoise Aegean, south of Thessaloniki in northern Greece, making for one of the most unspoiled areas of the Greek coastline. With a choice of areas to visit, you'll be sure to find a resort that works well for your perfect Greek beach holiday.
To the west is Kassandra with its characterful stone towns, child-friendly resorts, and white-sand beaches. Middle finger Sithonia is greener, hillier, and less developed. The secretive monastic republic of Mount Athos perches on the eastern peninsula.