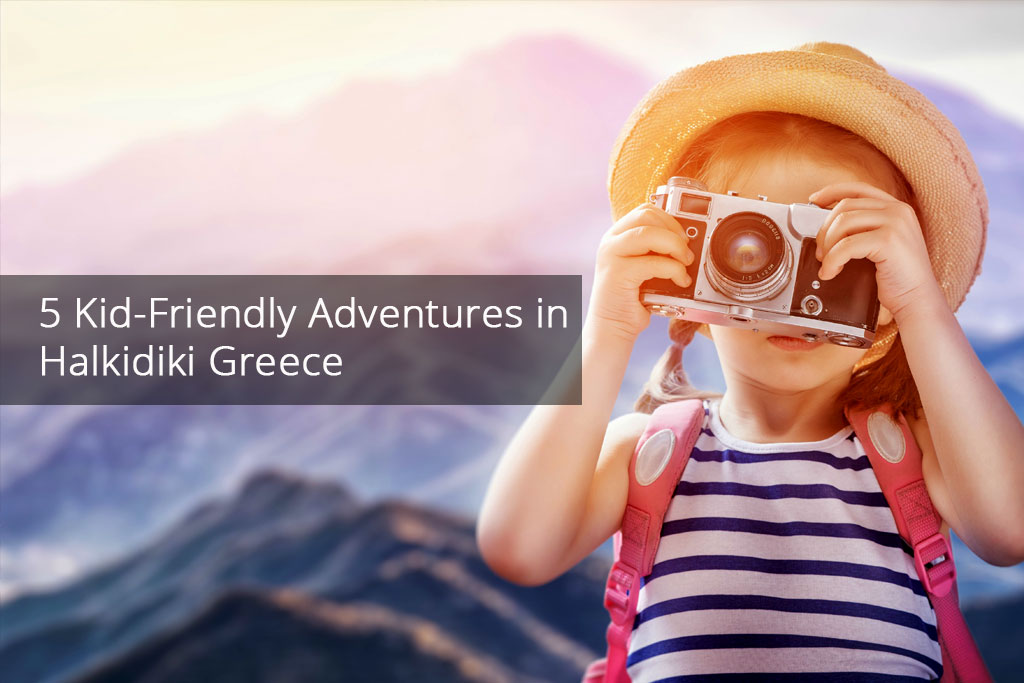 5 Kid-Friendly Adventures in Halkidiki
Traveling with kids? Are you looking for kid-friendly adventures, day trips, and activities in Halkidiki?
Then check out these 5 activities for families!
Greece is a haven for travellers. The food is fantastic, the islands are gorgeous, you can find luxurious 5-star hotels or local homestays. Most travelers head for the Islands, which are definitely beautiful. Still, for somewhere a little quieter, mainland Greece is the perfect spot.
Specifically, Halkidiki is the best choice, especially if you are travelling with kids. At Halkidiki, you can explore the beautiful pine forests, the beautiful mountains, the azure waters of the sea, taste delicious food, and visit picturesque villages or great monasteries.
But if you are wondering which activities are the best when traveling with kids, here are the top 5 kid-friendly adventures:
1. Beach
The one thing most people visit Greece for is the beach. In Halkidiki, beaches range from white and sandy to rustic and pebbly. Still, each enjoys crystal clear waters and plenty of room to play. Plenty of the beaches here have shallow water, so they are perfect for kids to paddle and even learn how to swim.
Furthermore, if you are lucky, you might see wild dolphins dancing in the water. A remarkable sight both for kids and adults. Also, alongside the beaches, there are amenities such as restaurants, cafes, ice-cream shops, and others to provide a good meal or drinks or some relaxing time. After all, it can get exhausting playing in the water all day long.
2. Aristotle Park
There are loads of educational things to do in Halkidiki with kids. Aristotle Park has to be one of the least well-known.
Billed as a theme park, but actually more of a play park, it's located in the North East of Halkidiki, about 5 minutes from Ancient Stagira, the birthplace of Aristotle. This should be high on your list when you're planning what to do in Halkidiki with kids. The park is full of interactive scientific instruments, all of which were mentioned in Aristotle's textbooks, making it a perfect place to teach kids some basic physics.
There's a sun clock, so you can tell the time and date from the sun alone, telescopes, beautiful prisms, and a very tuneful pentaphone. A unique activity is a parabolic reflector which is two huge concrete dishes set meters apart. If you whisper into the center of one, you will hear it in the center of the other. It truly feels like magic. Furthermore, there are some great views out to sea and a nice looking restaurant.
3. Petralona Cave
A must-visit for any little history lovers and explorers. This cave is back out west towards Thessaloniki and is 300 meters above sea level. The cave is over a million years old. It is where the oldest European human remains were discovered, thought to be from around 200,000 years ago. You will get to wander through the amazing caverns, dodging stalagmites and stalactites as you head deeper inside the mountain.
4. Parthenonas
Located at 350m above sea level, on the slopes of Mount Itamos on the Sithonia Peninsula. This ancient village was all but deserted in the '60s and '70s as it was all but uninhabitable. You'll still see some overgrown, derelict buildings balancing precariously on the hillside. It is now listed as a protected village and hosts a film festival every summer. It is perfect for an adventurous day trip.
5. Mount Athos Cruise
The third of the three peninsulas is mainly made up of Mount Athos. A breathtaking mountain towering above Halkidiki. It is one of the most important centers of the Orthodox Christian Church. It is home to the oldest monastic communities in the world. Around 2000 monks live on the mountain, some within monasteries, others in complete isolation. Women and children are not allowed on the mountain. However, many available cruises in Halkidiki help you marvel at the beauty and serenity of Mount Athos.