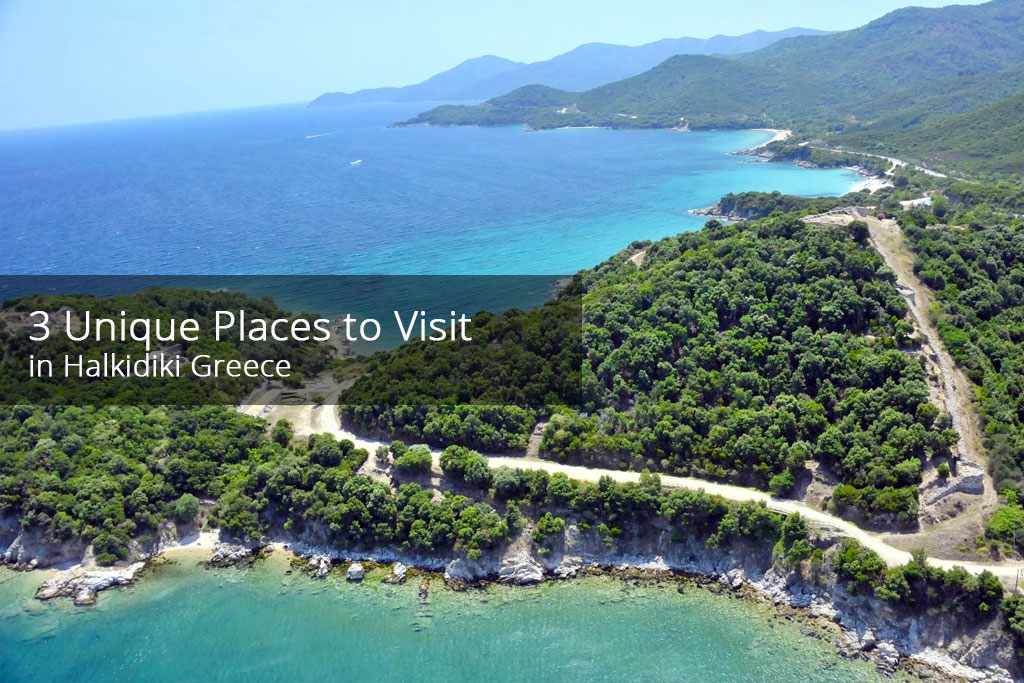 3 Unique Places to Visit in Halkidiki Greece
Do you enjoy those thrilling moments of discovering abandoned and unique places? Then, get ready to explore the top three unique places of Halkidiki.
It is always thrilling when you visit abandoned or other eerily unique places. When exploring an abandoned building, there is always an anxious feeling. You are not sure what or who is waiting for you.
You are wondering whether in the next corner or room there might be a haunting ghost or ghoul. However, sometimes you are simply surprised by the unique architecture, furniture, or an old book forgotten on the dining table.
Nevertheless, sometimes you might find yourself in other unique places which rather than abandoned they have a vibe of different, unexpected, or ancient. Here in Greece, as one of the oldest countries in Europe, you will find countless unique ruins, landscapes, and unexpected places that will thrill and surprise you positively.
Sunday Summer Resort is the perfect location for guests to explore the three peninsulas and find beautiful, historical, and unique places to visit.
Here are the top three we recommend:
Kavourotripes beach
Kavourotripes literally means crab holes. It is called so because Kavourotripes beach consists of numerous small beaches and white sand coves. There is one relatively larger beach with umbrellas and sunbeds that are organised by a beach bar.
But, if you prefer quieter and less crowded beaches, don't hesitate to explore the rest of the beaches. Access to them might be challenging due to the high white cliffs and rocky roads. However, that's their charm. So, if you are up to a challenge, you will be rewarded with stunning views of the crystal-clear azure waters of the beaches and outstanding views of the coves.
Distance from Sunday Summer Resort: 57 km (50m)
Mount Athos
Mount Athos is mainly known as the Holy Mountain. Unfortunately, only men are allowed to enter, and even then, access is limited. However, one can still explore Mount Athos either by taking a cruise to see from afar its unique landscape of forests and mountains. But also to see the numerous incredible monasteries that have overtaken the peninsula.
Additionally, for a closer experience of Mount Athos, you could always visit the ruins of the Monastery of Zygou that is only 40 metres away from the borders of the Holy Mountain. It was abandoned several centuries ago. But, even in ruins, it still has an eerie and sacred ambience.
Distance from Sunday Summer Resort: 78 km (1h 8m)
Ancient Stagira
Stagira is perfect For those who absolutely love history and are fascinated by ancient Greek philosophers, scientists, historians, or artists. The ancient city is the motherland of the philosopher and polymath Aristotle, the teacher of Alexander the Great. It is located 8 kilometres away from the village Stagira and is at the eastern coast of Halkidiki.
At Stagira, you can see the archaic walls and classical fortification of the city, the agora, part of the temple and an archaic sanctuary, the acropolis, and parts of the houses. The ruins of Stagira combined with Halkidiki's stunning sea views and forest is the best example of Greece's beauty. Such a unique and historical place is worth visiting.
Distance from Sunday Summer Resort: 78 km (1h 24m)